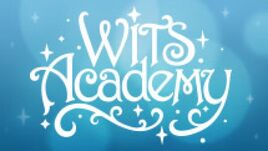 W.I.T.s Academy
 was an American teen sitcom that premiered on
Nickelodeon
on October 5th, 2015. It was a spin-off show to
Every Witch Way
.
The season had 20 episodes.
On February 25, 2015, Nickelodeon announced that they had commissioned a spin-Off of Every Witch Way called W.I.T.s Academy, after it was confirmed that Every Witch Way's fourth season, would be the last season of the show.
The series was created by Catharina Ledeboer, produced by Viacom International, and executive produced by Tatiana Rodriguez, who also created Every Witch Way.
W.I.T.s Academy was officially cancelled by Nickelodeon on March 23, 2016.
Plot
Now a Guardian in training at WITS Academy, the Magic Realm's most esteemed school for witches and wizards in training, it seems like Andi's dream has finally come true. But as the best friend and unofficial Guardian to the Chosen One, she'll have to work hard to prove that she can live up to expectations as the first (and only) human Guardian. Plus, she's in charge of getting the Magical Realm's toughest witch and wizard to graduation day, one of which is Jax's little sister Jessie! Along the way she'll have to decide who is a friend, who is a foe and who may be more…[1]
Cast
Jailen Bates as Ben Davis

Kennedy Slocum as Ruby Webber

Meg Crosbie as Emily Prescott
Timothy Colombos as Ethan Prescott
Ryan Cargill as Luke Archer

Lidya Jewett as Gracie Walker

Andrew Ortega as Sean De Soto

Tyler Perez as Cameron Masters
Jazzy Williams as Kim Sanders
Guest Appearances
Trivia
Lily quickly mentions the Academy to Andi in A World Without You.
Jax mentions that he went to the Academy in Lunch at Lola's.
The show premiered on October 5, 2015, and ended on October 30, 2015.
The first episode continued where the series finale of Every Witch Way left off.
Agamemnon is the Headmaster.
Mia Matthews' daughter, Bianca Matthews, appeared on three episodes of W.I.T.s Academy.
Paola Andino reprised her role as Emma Alonso, in the episode My Buddy From Orlando, on W.I.T.s Academy.
A cousin of Lily's attends the Academy, and becomes Andi's rival, both fighting to be the Guardian to the Chosen One, although, they later become a couple.
External links
http://www.justjaredjr.com/2015/02/26/every-witch-way-gets-a-spin-off-show-w-i-t-s-academy/
References