Welcome to the Page of Spells! This page lists the spells used in the Series!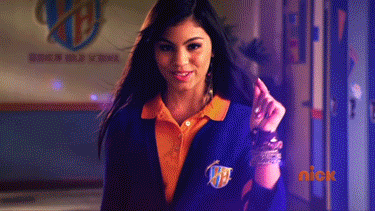 Season 1
Katie! Take that back or I'll punish you like the last time when I turned your hair blue!
And then they left in a rush, hey where did I leave the brush?
Glitter, balloons, sweet tarts, rainbows, puppies, and pink hearts!
The word on the street is Katie has gigantic feet.
Never mind the clock, on this door put a lock.
Of course I'd get stuck in here, I wish I could just disappear!
Katie! You take back what you said, or else I'll turn your hair red!
Cherries, sprinkles, ice cream float, turn Andi into a goat!
I know goats eat everything even candy, but I prefer if this one once again became Andi!
For now and forever and without a doubt everyone in school will freeze Emma out!
Emma ignores everything I say, so make me a storm that'll send her away!
I'll make sure I fix this battle, make him do the doggie paddle!
All I wish is for Daniel to swim faster than a fish.
I don't want to be thoughtless, so make my room spotless!
Three dancing girls and a fool, like Nicki Minaj make me look cool!
A German Shepherd, a Cocker Spaniel, send me to a spot where I can spy on Daniel!
This Maddie chick who I'd liked to throttle, for now put her in the ketchup bottle!
Someone needs help, to understand we're meant to be, so when he eats this pie, he will love me.
Locker, locker, open sesame, get me out of here as fast as a bee!
I'll be more careful I promise to, but for now this spell will undo.
You can't get away with this anymore, so now your feet are glued to the floor!
Like the moon when it becomes dawn, let Andi from the box be gone.
I was walking at too quick of a pace, so fix my mistake and repair this vase.
It's so nice when opportunity knocks, turn Katie into a pair of Mac's dirty socks.
Liar liar, pants on fire!
She's learned her lesson, this I can tell, it's time to end Katie's love spell.
I'll teach her not to mess with someone so spunky, when I turn nurse Lily into a monkey!
I've waited about as long as I can stand, make the Hexoren appear in my hand!
No a gnome, a fairy, or even and elf, turn Lily back into her old self.
Emma hasn't learned her lesson, in leaving us alone, so turn my phone into Emma's phone.
I have the power to break Maddie's spell, make Lily human again and all will be well.
He'll say yes when he means no, left when he means right, Daniel won't say what he means try as he might!
Before Emma bores me so much I frown, turn this classroom upside down.
Like an invisible wave that goes by, send Lily to Iridium High.
Crocodiles, snakes, I'm a female wizard, turn Daniel into a lizard!
I know I look like a mess, so turn me into a dress!
From cold blooded to warm you'll no doubt enjoy, turn him into the teenage boy!
Just like Sophie, Katie and me, a Panther you shall be!
It's past it's prime, it's sung it's tune, so turn this flower into a spoon.
It's kind of drab and faded from the sun, make this couch look a bit more fun!
He couldn't get out in a snap, so release Tony from his trap!
Not a panther, or a fairy, or an elf, turn Andi into her old self.
More than ever I need to disappear, so pick me up and get me out of here.
You don't listen, that makes my anger trigger so to teach you a lesson I'll make your ears bigger!
Four eggs in a basket, one in the pantry, lets have a celebration to turn Andi!
You deserve to be snotted on so here's what I'll do, I'll turn you into a stack of tissues.
We don't want you here, you're in the way, so I'm sending you far, far, away!
We really need some music in here, so I'll make Daniel's guitar now appear.
My anger for you is at a premium, so now you'll sound like you swallowed some helium.
I know he's feeling very constant so please revert Daniel's voice in an instant!
You've suffered enough I think, now lets make your eyebrows shrink.
We've gotta get in no time to waste, so open this door right now in haste!
She's done so much to teach and protect me, so turn this frog back into Lily!
From West to East, and South to North, I take your powers, forever hence forth!
She's been here longer than she should, so send the principal away for good!
Let's test whether I have powers, I want the whole school covered in flowers.
Season 2
It's a must, remove the dust.
Daniel can't see the council, not today, so send these witches far, far, away!
To send a text, my skills I must hone, make it look like it came from Daniel's phone.
How I get clean, I have no clue, so for now take off this goo!
I need to sneak right on by, make me a spider so I can be a good spy.
Sorry, Andi, you're out of luck, so to the ground you'll be stuck.-Jax
Who did this to you I still can't tell, but now that we know let's break this love spell!
These bunnies are cutie, but they can't be here, so away they go and they disappear.
I can't decide what to do and this might be mean, but to buy me some time, and make his memory clean!
We're getting into the danger zone, let's end this by blowing up her phone.
This crash will put Daniel's memory right on track, but he won't remember how he got his memory back.
You think you and I are in the same spell bracket, but try to cast one in a straitjacket.
I wish I had a special tool, that got me ready for school.
Violets are blue, frogs are green, make my room tidy and clean.
Violets are blue, frogs are green, make Andi's room tidy and clean.
You pushed me in a fo, now up your hair will go!
Daniel will be home soon, we need help fast; I'm calling Jax.
I won't leave him stuck there, even though I should, separate this Kanay from the couch for good.
This isn't where we want to be, send us to a place that works for me.
The Witches' Council, fair and wise they may be, but from their punishment spells, may you be free.
Since I am now able, turn this into a party table.
I want these curtains to disappear, replace them with brand new ones here.
I can't do this all by myself, so hang this for me like a helper elf.
To make this thing work, I don't need a map, turn this supplies into a sweet trap.
Fighting won't solve this creepy feature, help Diego escape from the creature.
This plant must of tipped over last night, it's too heavy, so turn it up right.
Who knows what else she'll do, stick her hands together like glue!
Dad's punishing Daniel because of me, I wish I could help him with his lines instantly.
So many places to go, people to see, I can't do it all, so make another one of me.
So many things to do, people to see, I can't do it all, so make another one of me.
So many places to go, people to see, I can't do it all, so make another one of me.
A mess like this it can't be seen, make this place completely clean.
Like a smile into a frown, turn this bottle upside down.
This was a mistake, it wasn't meant to be, get rid of all these copies, anyone who's not me.
Maddie's back have no fear, give Proxy one big rabbit ear.
I'm tired of people telling me what to do, put Jax in locker number 202!
A panther you must never dare, turn this bench into a hare.
Like the bench turned into a hare, turn Emma into a ferret.
I knew this one day would come in handy, put a love spell on this candy.
In the 7 it's a little dark, let's create a rainbow arc.
Your magic expose will never be, and you will be loyal to only me!
You're my minion, it's between you and me, a secret forever, it shall be!
For this girl my only wish, is that she can only speak gibberish!
Since she wants to become a lion, tiger or a whale, give this girl her very own tail!
Revenge on Jax, I still haven't gotten, turn the apple he's eating rotten.
I need to keep these things at bay, turn them into birds so they'll fly away!
This bird isn't a parrot to me, back to a person you shall now be!
Where ever she is far or near, summon Emma right here.
This bird isn't what she appears to be, back to a human you shall now be!
This storm is not strong enough, make it scary and make it rough!
He's broken the rules, this ends today, take Jax Novoa's powers away.
The boys have turned bitter, put them all in some glitter!
I have to make Emma jealous of this guy, make Daniel irresistible to every girl who looks him in the eye.
My previous spell needs a wider reach, expand it to include all the girls on the beach.
This magic trick has turned into a huge blunder, get rid of the spell that Daniel's under.
We need to save him from doom, bring Philip to my room.
Before Andi has a cow, open this door now!
From where you attack, you have to go back!
Bring her back from where she came, take Andi right out of that game.
There's too much risk at bay, for that we must send Lily away.
Where ever he is far or near, summon Philip to appear right here.
Of this formula we only have the fraction, reveal the other half to produce the correct reaction.
This shoe will reveal, if what Lily said was real.
Doing this spell I thought I'd never, but turn this dog into a boy that will love Katie forever.
You're danger and you can't be tame, go back to where you came, back to the game.
The wrong witch is in limbo I fear, take Lily out and send her here.
We can't be in here anymore, we gotta go, so unlock this door.
As the leaf falls from the tree, from this spell may you be free.
I'm gonna fill this room, with my snakes of doom.
This process is too slow, let's speed up the flow!
Now that your cover is blown, I'm turning you into stone!
Two black cats and a crow, to the brain convention you will go.
We have no more time, turn Daniel into a lime.
All this knowledge will cause a terrible scene, wipe Gigi's memory clean.
Season 3
This spell should be quite a breeze, make everyone now unfreeze.
That spell I did was in vain, make time start to move again.
This spell I can't unlock, it's time to start the clock.
Everyone is stone cold stop, make time start again-it.
It should be a breeze, for the world to unfreeze.
Go chew, on a shoe!-Agamemnon
I'm just getting back in here, make a bunch of flowers appear.
This rabbit is fine, but I really want a porcupine.
I've been waiting for an hour, I want to see a pizza tower.
This spell will put me in the clear, make a turtle appear.
Sophie's hold is tighter than a crab, send them to the Chemistry lab.
This Daniel I don't wanna deal, get rid of the spider seal.
You are no longer free to roam, Daniel stay home.
A small spell, I can do one of those, I'll make something simple, let's see a rose.
This spaghetti pile won't stop getting bigger, I fear, so make it shrink down, make it disappear.
We wanna go someplace far from reach, so take us someplace warm, like the beach.
The temperature is getting low, so turn it warm to melt the snow.
This idea might seem kind of bold, but make us penguins to love the cold.
We could freeze to death in here, so put us in some winter gear.
This wall we need to get by, make it invisible to the eye.
Moving these containers are a chore, place them on the floor.
Cleaning up is a chore, make everything the way it was before.
Right now she's as invisible as night, so bring Andi back into sight.
With no one else he's meant to be, Diego only has eyes of me.
He'll be with me at all times, that much is true, so make Diego stuck to me like gum on a shoe!
School's so spooky in the dark, turn the light on my mark.
I need to track him like a hound, show me where Diego can be found.
Things are getting out of hand, send Mia to another land.
I need to go home, so send Mia to Rome.
We need to get out of her reach, so send Mia to a far away beach.
This transformation spell I have to undo, make Jax no longer a Kangaroo.
This was a fruitful punishment session, change Jax back now, he's learned his lesson.
I don't ahere to any rules, turn this desk into a mule.
For most this spell is hidden for it's results are forbidden, but for me nothing is banned, as chosen one, I am in command, it will give me great joy, to turn Philip into a real boy.
Season 4
I need to know where he is in a snap, locate Daniel on this map.
I need some help while I'm home alone, so please restore all of my clones.
This RV needs some extra power, help Diego find the cauliflower.
Before we hear the thunder clap, show Katie, Sophie and Gigi on this map.
Show her what everything else someone hears our dish, so make Gigi only speak in Turkish!
With this memory wipe she'll forget our powers, now erase what she saw in the last 24 hours!
I trust in Daniel and I have hope, now set him free remove this rope.
I need to be honest it's no time to lie, now help me please make this rope untie!
Do it now there can be no stall, cut these ropes once and for all.
Sleeping on the floor, now that's a hard sell, turn our little corner into a five star hotel.
Keeping her like this would be a reach, now clear her mind and return her speech.
I need to look good, no one can doubt it, put me in a super cute outfit.
This won't take all my power just forget the last half hour.
Looks like I really blew it, but that's ok I'll just undo it.
No need to write or move my wrist, now come alive to write this list.-Maddie
Daniel's friends should know him but his memories are dim, so shed some light on the situation, and restore their memories of him.
I hate to lie to Proxy but I'm in a bit of a bind, so make things how they were before, and again, wipe Gigi's mind.
This has been a journey with so many lows and highs, now lets bring it back to the start and make some butterflies.
When things look right all will be clear, get this people's stuff out of here.
From this world you must not veer, you'll stay with us don't disappear.
This may sound silly, but bring back Billy.
From Zanzibar to West Samoa bring back that seven foot boa.
Daniel feels the lost and his heart aches, at least bring back the snake.
Jax must see that it's alright, so take us back to last night.
I've been silent too long, it's time to roar, so on this Council start a downpour.
No time to be timid, no time to be alarmed, now protect us from this intruders harm!
I know I have the power to stop everyone's day, but unfreeze this person so we can both play.
She's out of control, a threat to us all, thus we ask this grimly recall, for all the days and all the hours, take from this one all her powers.
Treachery, treason, betrayal, shame, return this spell whence it came.
Maddie's silence I do approve, but show me why she can't talk or move.
To keep away any Jake Novoa trouble, wrap this house in a protective bubble.
We summon forward and summon back, to find the things that we do lack.
I shall go to any length, to give myself great powers and strength.
No shadows, no clocks, can limit time. Make it be, so the control is mine.
The memento I use to discern, and mark the place I will return.
Through day and night and endless hours, I hereby grant this transfer of powers.
You've chosen sides, you've made your choice, but stay right there and use your voice.
You've been so long from this place, come back now and end your disgrace, I need to receive you here, you and your shadow reappear.
I have the power to break Mom's spell, set Jax free and all will be well.
Finding Emma is a crucial mission, show me her exact position.
This is my most important assignment, free these two from their Orb confinement.
Ceiling walls and even floors open up all these doors.
Through days and nights and endless hours, I hereby grant this transfer of powers.
You've done bad things and still must pay, so Limbo is where you shall stay.
Another me is a worse than I could know, so back inside me she must go.