Welcome to the Page of Spells! This page lists the spells used in the Series!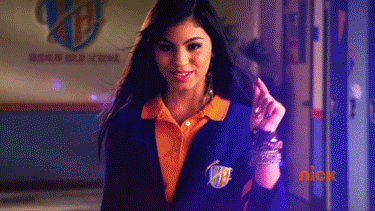 ---
EVERY WITCH WAY 
Glitter balloons sweet tarts, rainbows, puppies,and pink hearts!
And then they left in a rush, where did I leave the brush?
Katie! take that back or I'll punish you like the last time I turned your hair blue!
Katie! Take back what you said, or I'll turn your hair red!
I don't want to be thoughtless, so make my room spotless 
Of course I get stuck in here,I wish I could just disappear!
Cherries, sprinkles, ice cream float, turn Andi into a goat!
Never mind the clock, on this door put a lock.
The word on the street is Katie has big feet.
I know goats eat everything but candy, but I prefer if this once more became Andi!
For now and forever and without a doubt everyone in school will freeze Emma out!
Emma ignores everything I say so make a storm that'll send her away!
I'll make sure to fix this battle, make him do the doggie paddle!
All I wish is for Daniel to swim faster than a fish.
Three dancing girls and a fool, like Nicki Minaj make me look cool!
Someone needs help, to see we're meant to be, so when he eats this cake, make him love me.
That Maddie chick who likes to throttle, put her in a ketchup bottle!.
Locker, locker, open sesame, get me out of here as quick as a bee!
I'll be more careful I promise to, but for now this spell will undo.
You can't get away with this anymore, so now your feet are glued to the floor!
I was walking at too quick a pace, so fix my mistake and repair this vase.
I'll teach her not to mess with someone so spunky, turn nurse Lily into a monkey!
I've waited about as long as I can stand, make the Hexoren appear in my hand!
He'll say yes when he means no, left when he means right, Daniel won't say what he means, try as he might!
Before Emma bores me so much I frown, so turn this classroom upside down.
Crocodiles, snakes, I'm a female wizard, turn Daniel into a lizard!
I know I'm bad at cooking and that's my mistake, turn this pen into a cake!
I know I look like a mess, so turn me into a dress!
From cold blooded to warm you'll no doubt enjoy, turn him into the teenage boy!
Hot summer days full of bees and snakes, turn Emma's date into a mistake!
Just like Sophie, Katie and me, a panther you shall be!
It's past it's prime, it sung it's tune, so turn this flower into a spoon.
It's kind of jab and faded from the sun, make this couch look a bit more fun!
She's not a Panther, a fairy, or an elf, turn Andi into her old self.
He couldn't get out in his snap, so release Tony from his trap!
More than ever I need to disappear, so pick me up and get me out of here!
You don't listen, it makes my anger trigger so I'll teach you a lesson and make your ears bigger!
Four eggs in a basket, one in the pantry, lets have a celebration to turn Andi!
You deserve to be snotted on, so here's what I'll do. I'll turn you into a stack of tissues!
We don't want you here, you're in the way, so I'll send you far, far, away!
We really need some music in here, so I'll make Daniel's guitar now appear.
My anger for you is at a premium, so now you'll sound like you swallowed some helium!
He's been through enough I think, so make his eyebrows shrink!
She's done so much to teach me, to protect me, so turn this back frog into Lily
East to West, South to North, I take your powers, forever and forth!
She's been here longer than she should, send the principal away for good!
Let's see if I still have powers, make the school covered in flowers.