Magic is a supernatural force that Witches, Wizards, Kanays and possibly other magical creatures have the ability to use. It manifests as a blast of colorful light, smoke, or lightning from the user's hands. Most of Magic's history is still a mystery but it is assumed it has been around for an extremely long time.
Different Types of Spells Used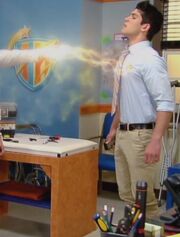 Witches and Wizards often use magic to cast
Spells
, whether it is for good or bad purposes. It is assumed that magic does not have any limitations and that you can do anything with a spell as long as you can come up with the words. Although magic doesn't just manifest as spells, they also can manifest as Powers. The known powers are:
Known Users
Witches/Wizards
Read more
Ad blocker interference detected!
Wikia is a free-to-use site that makes money from advertising. We have a modified experience for viewers using ad blockers

Wikia is not accessible if you've made further modifications. Remove the custom ad blocker rule(s) and the page will load as expected.