A
Kanay Duel
is a duel that requires two
Churi Kanays
. Kanay Duels are usually used to settle a disagreement. A duel is requested by a traditional Kanay Duel Dance and once the gauntlet is thrown, the other kanay can't back down. Once the duel is over, the winner will become the loser's master.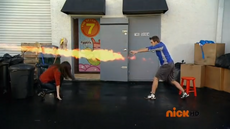 The loser cannot say no to an order.
When following an order, the kanay will be shocked.
The loser can only be set free when the winner says so.
The image gallery for Kanay Duel may be viewed here.
"Add More!"
This article is a stub. You can help the Every Witch Way Wiki By expanding it.
Ad blocker interference detected!
Wikia is a free-to-use site that makes money from advertising. We have a modified experience for viewers using ad blockers

Wikia is not accessible if you've made further modifications. Remove the custom ad blocker rule(s) and the page will load as expected.