Every Witch Way is an American teen sitcom that premiered on Nickelodeon on January 1, 2014. It is the American version of the Latin American show Grachi.
The first season was part of Nickelodeon's "One Month Event", which means that the episodes aired from January 1 to January 30, for a total of 20 episodes. On March 13, 2014, Nickelodeon announced that they had commissioned a second season of Every Witch Way, which will air in July. Season 3 has been confirmed and will air January 5, 2015.
On May 14, 2014, Nickelodeon Netherlands aired the show, titled Verhekst!: this marks the worldwide series launch. On July 14, Every Witch Way premiered in Brazil and in UK and Ireland.
Plot
14-year-old Emma Alonso moves to Miami, Florida, with her father. Here she finds out she's a witch and falls in love with her neighbor Daniel, but his girlfriend, Maddie, a mean witch and leader of the school team known as The Panthers, will do anything to make Emma suffer.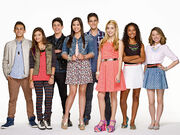 Cast
External links