"
In life we choose, Mr. Novoa, and those choices makes us who we are.
"
Agamemnon

General
Full Name

Agamemnon

Nickname(s)

Uncle Pete (by Emma and Andi)
Aggie (by Emma, Andi, Jax, and Lily)
Captain Creepy Pants (by Andi)

Gender

Male

Resides In

Miami, Florida (Currently)
Magic Realm (Formerly)

Occupation

Leader of the Witches' Council
Janitor

Relationships







Others

Desdemona (Fellow Council Member/Frenemy)
Ramona (Former Fellow Council Member)
Lily (Fellow Council Member/Enemy)
Maria Alonso (Former Frenemy)

Appearance
Eye Color

Brown

Hair Color

Brown

Production
Season(s)
First Seen
Portrayed By

Agamemnon is a recurring character in Season 2, Season 3 and Season 4 of Every Witch Way and the leader of the Witches' Council. He was sent to Limbo by Evil Emma after he escaped from the Abyss with her. Evil Emma tricked him just to get out and once again rules the Magic Realm with the other members of the Council until the Chosen One is ready to do it on her own.
Powers and Abilities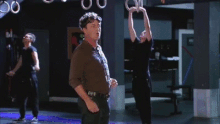 Trivia
His magic is yellow smoke and when he took Jax's powers it was yellow lightning.
He is the only male and leader of the Witches' Council.  
He likes smoothies and pineapple drinks.
He also likes french toast.
He has a grand disliking for Jax.
It is unknown if he also dislikes Jax's father, Jake Novoa.
His Signuture Gesture is balling is hand up by his shoulder then releasing his magic.
He is one of the most powerful wizards in the realm.
His and Desdemona's powers were taken by Emma in Power in a Bottle.
He was the new Headmaster in the spinoff series W.I.T.s Academy.